I'm at it again. The decorating bug has hit me this holiday season for sure. I stopped by the local dollar store and the $1 Spot at Target to get some dollar cheap decorating inspiration. I wanted something simple and clean that wasn't going to take me a ton of time to whip together. This is what I came up with...
I purchased a few packages of
plastic
Cracker Jack-proof ornaments. They are just the basic round balls in several classic colors with a few glitter to add some sparkle.
I pulled out almost all of my glass vases and a few serving pieces. When I was teaching I worked part-time for Pottery Barn for several years. During that time, I took advantage of their amazing employee discount...as you can see!
I cleaned and shined the vases, arranged the ornaments, plopped in a couple of candles, added some red tulle around the bottom, and there you have it!
A cheery, classic Christmas vignette that took very little time and even less money.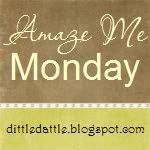 link up parties. There are some amazing ideas to see and droll over!